Rehabilitation Therapy Clinic in Singapore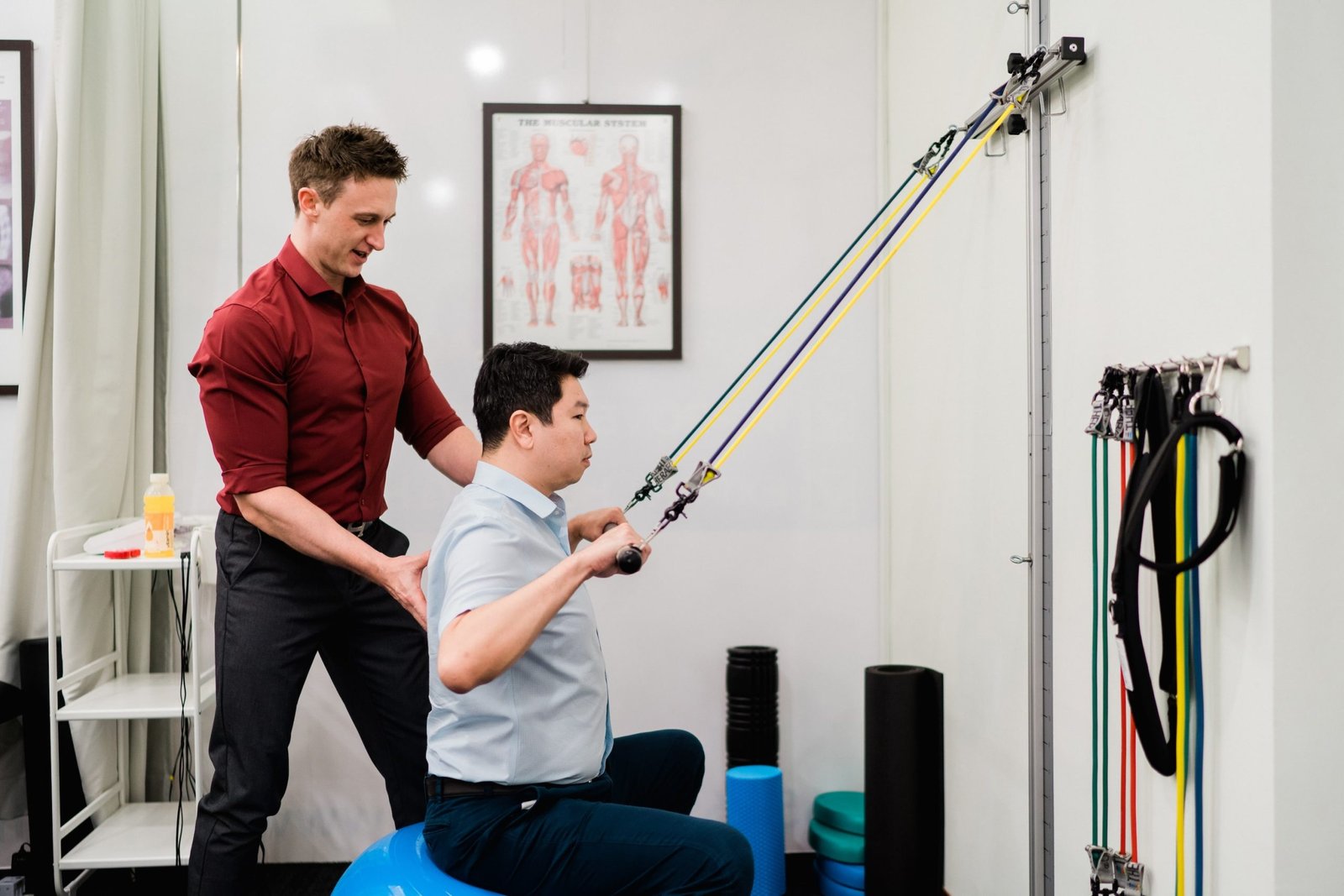 It is common for many people to get confused when seeking out a solution to their problems whether they should look for a physiotherapist, chiropractor, or other type of manual medical provider. Below we will discuss briefly about physiotherapy and how different techniques may overlap between professions.
In short, physiotherapy is a profession that employs a 'whole person' approach to well-being and health. At its core is the patient's own involvement in their care through awareness, empowerment, education, and participation in their treatment.
Physiotherapists help individuals affected by illness, disability, and injury through exercise, manual therapy, education, lifestyle advice, and movement. They also help people of all ages maintain their health by helping them manage pain and prevent disease. Physiotherapists also facilitate recovery so patients can remain independent for as long as possible.
Almost anyone can benefit from physiotherapy at any time in their lives. For instance, you can turn to physiotherapy if you need help managing sudden injury, back pain, or other chronic health issues. Basically, it is a system of tools and management to help people improve their health and function.
Physiotherapists make use of their skills and knowledge to improve a diverse range of conditions associated with different systems of the body. For instance:
Musculoskeletal (sports injuries, back pain, whiplash disorder, arthritis)
Respiratory (chronic obstructive pulmonary disease, cystic fibrosis, asthma)
Neurological (multiple sclerosis, stroke, Parkinson's disease)
Cardiovascular (rehabilitation after a heart attack, chronic heart disease)
Additionally, some of them are closely involved with research, service management, and education.
Additionally, some of them are closely involved with research, service management, and education.
There are many various treatment approaches that physiotherapists may employ depending on their training and area(s) of specialisation. Some of the more common methods include:
Stretching and exercise techniques
Physiotherapy Instrument Mobilisation (PIM)
Joint manipulation or mobilisation
Physiotherapy Taping
Massage and soft tissue techniques
Use of modalities like electrotherapy, cold laser, ultrasound and others
Lifestyle advice
Just like in other professions, physiotherapists may specialise or focus on different aspects of care or different types of conditions. For example, some may be more focused on rehabilitation of cardiac or pulmonary patients, while others may focus on sports injury and recovery or performance.
Additionally, the length of time required for study to earn a degree in physiotherapy varies depending on the certification process in a practitioner's country of study. The degree of knowledge and skill among physiotherapists can range greatly, just as it can among professionals in many different professions across different nations.
Physiotherapy vs. Chiropractic
Unfortunately, many people both within the professions and in the public think there exists an antagonistic relationship between doctors of chiropractic and physiotherapists. This is often based upon outdated notions of how practitioners of each field of specialty operate and misconceptions about each other.
At Elite Spine Centres, we firmly believe the future of healthcare is moving towards integration; not only between chiropractic and physiotherapy, but also between a broader range of conservative treatments and mainstream medical interventions. The human body is extraordinarily complex, and what works for one particular patient may not work exactly the same way for another patient. Therefore, providers of every speciality should look to broaden their horizons to learn theory and practice beyond a narrow scope which may have been traditionally defined in the past, and provide options which will best help their patients.
The reality is that the level of training and techniques a provider are proficient in can vary greatly depending on where they are trained, what kind of licensing is required and how they choose to practice. Traditional lines between professions like chiropractic, physiotherapy, osteopathy and others are becoming more blurred and it is important that patients find a provider who fits their needs and preferences. Read our article on chiropractic vs physiotherapy for a more detailed comparison.
Physiotherapy at Elite Spine Centres
The United States has one of the longest training programs for chiropractors in the world and is one of the only places to grant a doctorate degree in the field upon completion. Areas of study to receive a Doctor of Chiropractic (DC) degree in the USA include many courses that a physiotherapist would take such as anatomy, physiology, manual therapy courses, musculoskeletal diagnosis, etc. A DC degree also requires study in many areas beyond what a traditional physiotherapist (4 year degree) would need to study, as well as completion of 4 national board exams.
Chiropractors in the USA that choose to take additional elective coursework in physiotherapy, gain extra clinic practicum hours, and take a separate 5th national board exam are then able to add a certification in physiotherapy along with their doctorate in chiropractic. Our doctors of chiropractic at Elite Spine Centers have achieved these additional certifications and are well-equipped to employ physiotherapeutic methods as well as chiropractic techniques with our patients. This often enables us to achieve better results in a quicker amount of time by combining techniques as needed with our patients.
Schedule a consultation with us at our unique centre today to find out how the right combination of physiotherapy and/or chiropractic care might be just what you need to feel better and learn how to stay that way!
When you book now, you'll get our:
Relieve pain, restore your body's natural function & avoid surgery with our Signature Functional Correction Method (FCM)
Get spot-on analysis and professional advice on what's causing pain, and how to treat it with our Doctor's Consult + Examination
Schedule your appointment right now & we'll EVEN throw in these bonuses for FREE!
Break down stubborn muscle knots and old scar tissue with or Doctor Directed Soft Tissue Mobilization
Calm down & relax with our soothing ATT-300 roller massage bed
Get a free Follow Up Consult + Xray/ MRI Review (*T&C applies)
PLUS 1 Additional Bonus Therapy (tailored specifically to you by the doctor after your consult)
*You get ALL of this for just $88
(originally priced @ $225).
Hear What Our Patients Say
My husband has been dealing with lower back pain for years. Did some research online and made an appointment with Elite. This was about 3 years ago, and my husband is still with Dr Michael. 🙂
I found out about Elite Spine Centres after struggling with neck and shoulder pain and migraines. I have never tried chiropractic before. I had my own doubts and concerns. But decided to give it a try anyway based on the good review from Google. From the first moment I reached out, the team has always been very helpful and friendly. I came with lots of questions about my condition as well as the chiropractic itself. Dr. Mike understood my concern. He patiently explained every time I have questions, about my progress and also any other symptoms/sensation that I noticed after starting treatment. At the initial process, he gave a gentler adjustment, until I was more accustomed to the experience. He even went the extra mile to provide me with resources to help me exercise/train my shoulder. The comprehensive treatment, stretches and exercises given to me helped my symptoms a lot. They haven't completely gone away as this is a long process. But I haven't taken any painkiller again since then. Overall, great experience. I've even recommended this place to friends are experiencing similar issues. Thank you Dr. Mike and team 🙂
Very professional and caring team. Mum's spinal issue improved after trying all sorts of therapy elsewhere. Knee problem has always been an issue too and i have seen great improvement.
Since am working in healthcare industry for 30+ years, rarely I will comment on medical treatments & Outcomes due to lot of unknown factors. However, this time I felt compelled to write this review for sharing my personal experiences with Dr Mike and his professionally trained team from Elite Spine Care centre. First, up all I have had a pleasant treatment and impressed with customized therapy and clinical services provided over 16 sessions at timely manner. They never acted like they didn't have time for me. I received extensive help at any time from Dr Mike and all clinical and admin staffs, which I really appreciated. Since am in Technology side, my job required extensive work on IT systems, cause of that end of the day I used to have severe pain on my right neck, right shoulder and right leg. I got this pain from late 2015 when I attempted to lift a heavy object Since then I had a weaving Scapula on right shoulder & radiating pain on right neck and arm. I had numerous number of consultations with Ortho and spine specialists, MRI and CT studies and Physiotherapy sessions start from 2015. However, pain had increased steeply and even led to muscle loss on my right arm and shoulder joints. I could not bear the pain and decided to search for alternate treatments such as Ayurvedic, Traditional Chinese massage, accupuncture, etc at various places. By God's, grace one of my friend introduced Dr Mike and intially signed up for 16 sessions at discounted and offordable price I would like to say what a positive experience I had with Dr Mike and his team. They explained everything to me and made every visit more comfortable and worry free. After 4 sessions, I have realised the benefits and now I do not have much pain and recovering from muscle loss and scapula weaving. I have planned to extend the treatment for another 1 year for stabilise the condition. Right now am looking forward to have regular session with Dr Mike and his team. Once again my sincere thanks to Dr Mike, his therapists and all Clinical and administrative staffs for the respect and care that you have showed me. You are always very special people in my heart
Dr Mike and the Elite Gang have been amazing hosts in my chiropractic journey. Dr Mike often emphasises that chiropractic isn't a one-day miracle cure. Chiropractic is about the re-introduction of movements in which the body has not utilised and maintaining them. In the beginning, I was looking for a treatment that would help elevate the ache between my shoulder blades from physical activities. Dr Mike provided a fluid program which resulted in an improvement on my shoulder mobility and the ache reduced gradually. Eventually, my aim is to be more aware of my body structure and search for methods to improve muscle recovery after intense physical activities. Armed with skilled hands, new technology and a friendly, caring team, Elite Spine has provided me with an amazing care in my recovery and fine-tuning of my body. Thanks ya'lls!!
I had severe aching from the lower back down to my feet, it was so bad that I absolutely needed a massage almost everyday. Just a few sessions at Elite Spine made a huge difference and I could now walk/ stand for a long time and run abit without experiencing much soreness. Sleep quality also improved. I also like that there were home stretches recommended to improve condition and body posture. Doctors and staff there were very friendly, I could bring my toddler with me when needed. A tremendous improvement in quality of life, thank you!
I am very thankful that my son, Ryan, also client there, recommended me to Elite Spine Centre. I have undergo the treatment for my lumbar stenosis for slightly more than a month & I am able to stand & walk longer with much lesser pain. Dr Mike & Dr Fraser, and the team are very friendly and professional in dealing with the treatment/ providing services. they provide valuable advice and they do NOT do hard selling. The treatment they provided is complete treatment for the whole body spine with different type of treatments that tailor to your issues. Thank you very much.. Henry Loh
I am very thankful that I have came across this Chiropractor Centre that I have undergo the treatment for my stiff neck and shoulder. I been through few chiropractor centres in Singapore and I would said that this centre that you do NOT want to miss. Dr mike and the team is very friendly and professional in dealing with the treatment/ providing services. they provide valuable advice and they do NOT do hard selling. The treatment they provided is complete treatment for the whole body spine with different type of treatments that tailor to your issues..
Elite Spine Centre is one of the best & most well-equipped chiropractic centre located in SG. Dr Mike is extremely professional & well versed in his field. Having a vast knowledge & experience, he is able to diagnose the root of the issue & work up a treatment plan aiming towards having a lasting recovery instead of just simply "cracking" a few bones to treat only the symptoms temporarily. The team of awesome ladies at Elite Spine Centre, ever friendly & approachable, is always there to ensure that the patient's treatment runs smoothly throughout the whole process. Most definitely recommend anyone seeking chiropractic treatment to visit Elite Spine Centre. Thank you Dr Mike & the awesome team of ladies at Elite Spine Centre 🤙🏾
Nastassja Conning
2023-01-04
Dr Mike and his team are just fantastic in every way. I've been to other chiro's in the past and nothing compares to elite spinal centre! Dr Mike genuinely cares about what the issue is, how you're feeling and the best way to get you better. Above this, his team are incredibly kind, caring and just make you feel at ease. Could not recommend them enough.