Best Chiropractic Knee Pain Treatment Singapore
Take Each Step Pain-free With Elite Spine Centres!
Does your knee hurt? Can you bend your knee joint or walk up and down the stairs without feeling sudden pain?
Pain in the knee joints has become a common ailment in our society, from competitive sports athletes to everyday office workers.
Knee pain is not normal, and you should not be forced to accept it.
Yet, most people choose to power through the pain, thinking chronic knee pain is just something they need to deal with as they age.
Perhaps you've tried multiple home remedies and found that they did not relieve pain at all.
Some might take painkillers to deal with it but realise that it only brings temporary pain relief.
But what can you do to get rid of that knee pain if you're not keen on more intense treatments like joint fluid injections or knee surgery?
These remedies mentioned above only deal with the symptoms of knee pain. For effective pain relief, your knee pain treatment needs to address the problem as a whole.
And Elite Spine Centres can do just that!
Our skilled chiropractors can relieve knee pain and avoid relapse with a comprehensive therapy plan tailored to your health and care needs.
Keep on reading to find out the best way to treat your knee pain pain-free!
Experience Lasting Knee Pain Relief With Our Signature Functional Correction Method (FCM)!
At Elite Spine, we see a growing number of people with knee pain. You probably expect this kind of pain to only occur in the elderly (osteoarthritis pain) or perhaps athletes (overuse injury or torn ligament).
But the truth is, we are seeing an increase in younger people and the average office worker suffering from knee pain, primarily due to the sedentary lifestyle most of us are forced to lead.
We at Elite Spine firmly believe your life should be as pain-free as possible.
Just 'a little' pain could turn out to be worse in the long run for your health and body. Often, it signifies that your body needs extra support and care.
Not to mention, if it comes to it, knee replacement surgery can be pretty costly. Trust us—you don't want your knee pain to reach this point.
Therefore, pain treatment must be sought out as soon as possible!
Contact us today so we can put together a comprehensive treatment plan tailored precisely to your needs!
Our Signature Functional Correction Method (FCM)
Often, pain is the way your body shows you that something isn't operating the way it should be.
Let us bring you relief with our Elite Spine chiropractic treatment strategy.
Our signature Functional Correction Method (FCM) combines the best in modern chiropractic strategies, soft tissue therapy, and rehabilitative exercises to address your concerns thoroughly.
Step 1 – Initial Consultation
At Elite Spine Centres, we firmly believe in creating a low-stress, patient-centric environment.
Our Doctor of Chiropractic will review your symptoms, health history, and any previous injuries in detail to understand better what may be causing your concerns.
We will work with you to address your concerns, ensuring that you understand your condition before proceeding with treatment.
There will be no hard sales or excessively long treatment packages – we want to work with you, not against you!
Step 2 – Spine and Body Examination
A thorough physical examination will be performed to assess your spine and the entire lower kinetic chain for proper bio-mechanics, knee alignment, signs of damage or degeneration, possible injuries and safety concerns.
Orthopaedic or neurological tests may also be performed if needed at this time. This will allow us to identify subtle injuries, including stress to soft tissues such as ligaments, tendons, cartilage and muscles. Thus, obtaining a proper and more accurate diagnosis.
Most of our patients will be able to receive treatment on their first session once any potential safety concerns have been ruled out!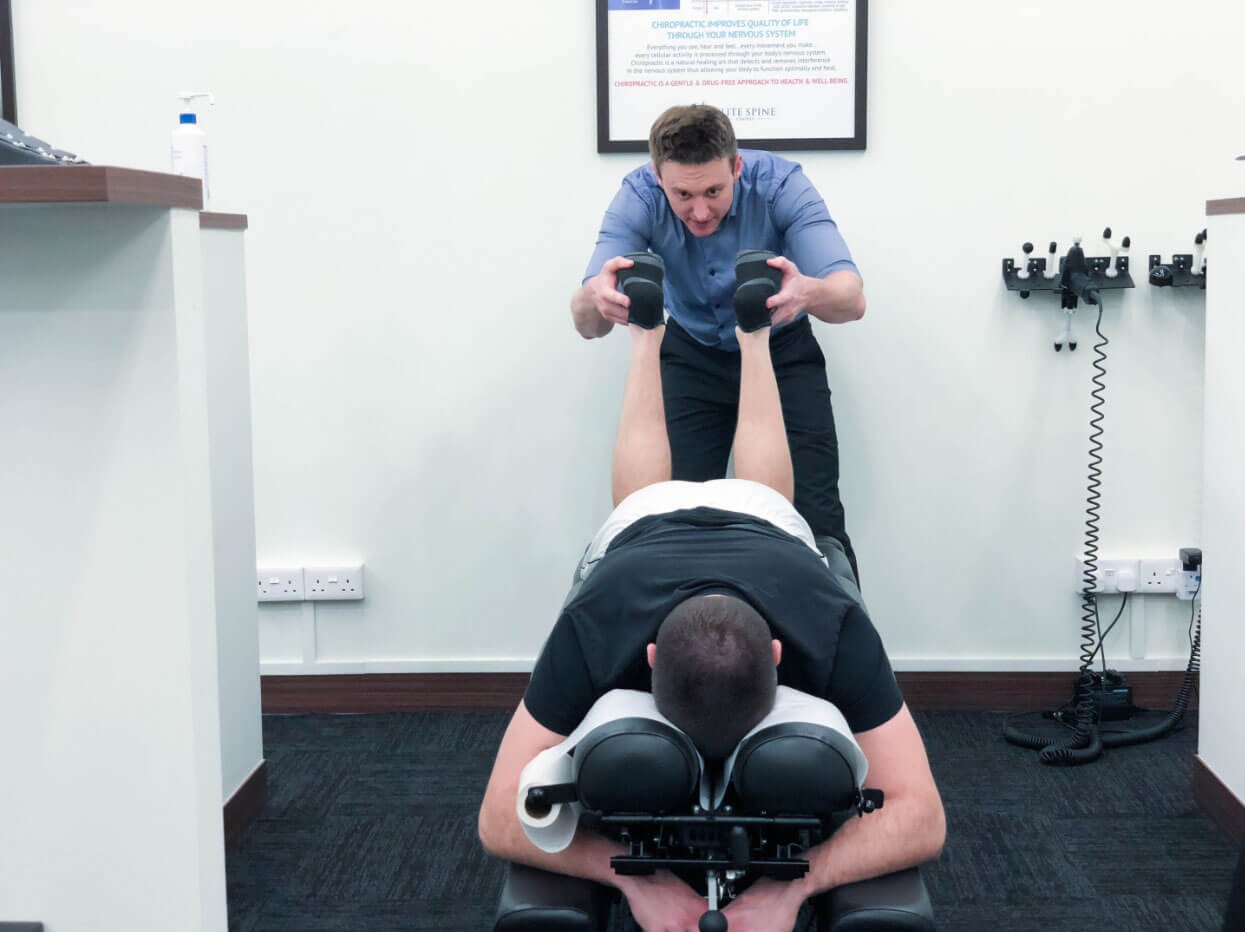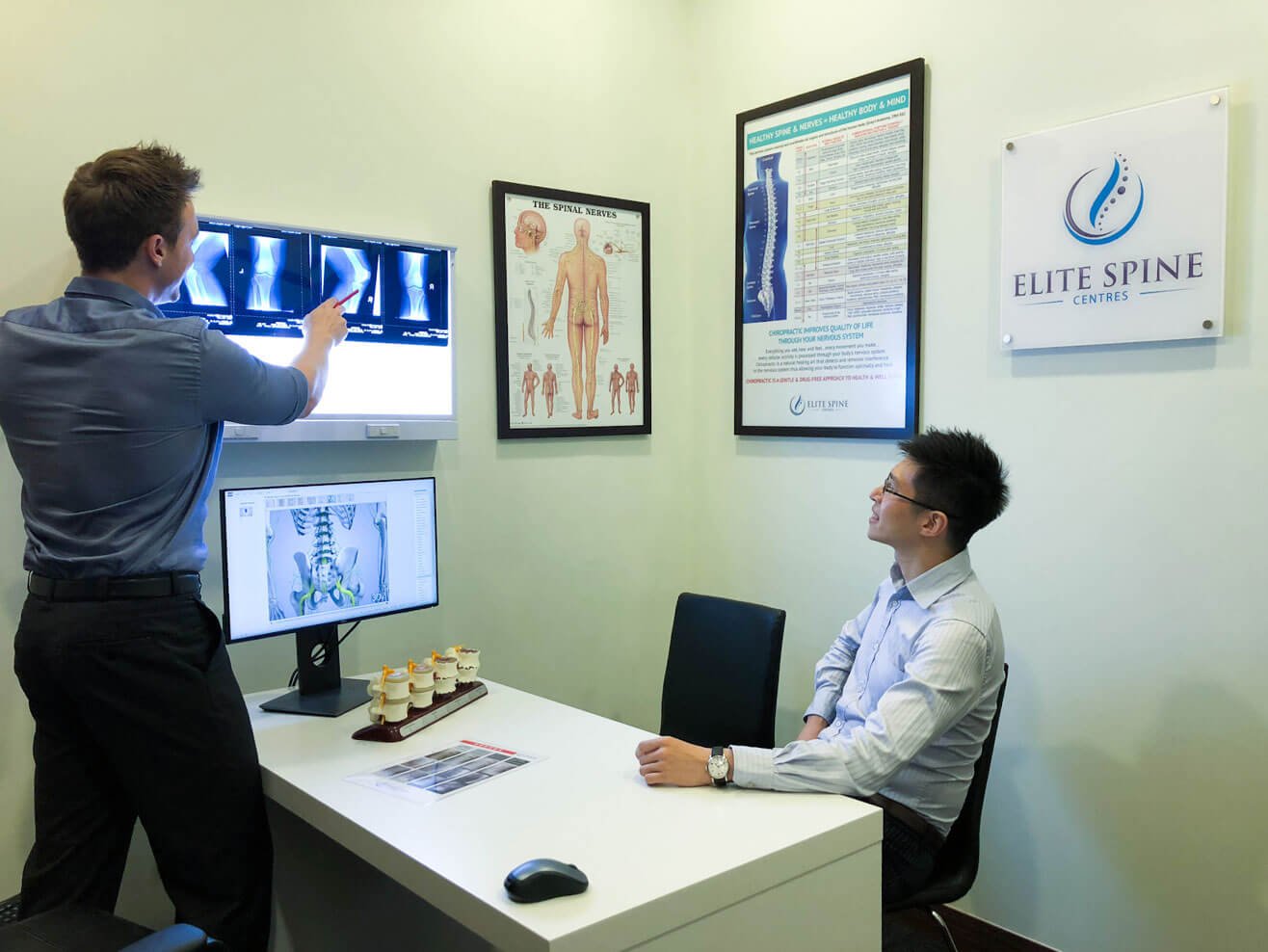 Step 3 – Doctor's Report and Recommendations
The doctor will assess your response to the first session and review any studies which may have been requested (X-ray, MRI, etc.).
Based on the findings, a customised plan of action will be discussed with you to help you reach your treatment goals.
Compared to the typical approach of symptom management via medication, doctors of chiropractic can deal with the problem right at the root.
That being said, chiropractic is not a miracle cure. In rare events that we cannot help, rest assured that we will help you find the right solutions for your knee pain.
Step 4 – Holistic Chiropractic Treatment
Treatment usually involves chiropractic manipulations to restore your body to its natural state and improve blood flow to soft tissues.
If needed, advanced therapeutic technologies may be used to complement your healing.
Your comprehensive treatment plan will also involve personalised lifestyle advice and strengthening exercises (similar to physical therapy or physiotherapy treatment) to prevent your condition from recurring and restore proper long-term movement patterns and posture.
This means our patients can achieve more complete recovery in a shorter amount of time than at other centres!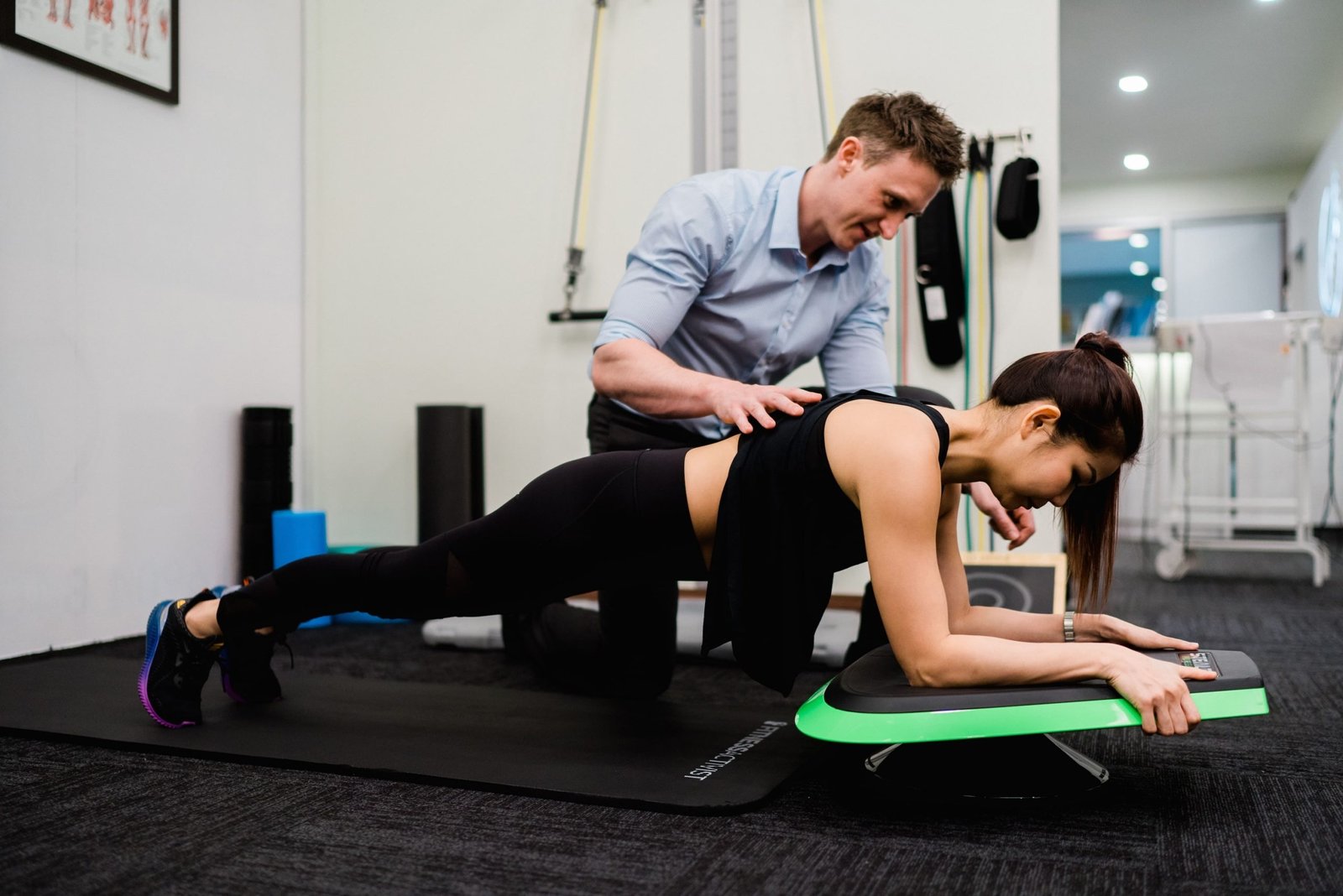 Enjoy Our New Patient Promo for Only $88 When You Book Online!
We know that seeking chiropractic help for the first time may be overwhelming to many patients.
Hence, we prepared a special introductory package covering almost everything you need for your first two visits to our clinic!
When you book now, you'll get our:
Relieve pain, restore your body's natural function & avoid surgery with our Signature Functional Correction Method (FCM)
Get spot-on analysis and professional advice on what's causing pain, and how to treat it with our Doctor's Consult + Examination
Schedule your appointment right now & we'll
 

EVEN

 

throw in these bonuses for

 

FREE!
Break down stubborn muscle knots and old scar tissue with or Doctor Directed Soft Tissue Mobilization
Calm down & relax with our soothing ATT-300 roller massage bed
Get a free Follow Up Consult + Xray/ MRI Review (*T&C applies)
PLUS 1 Additional Bonus Therapy
 

(tailored specifically to you by the doctor after your consult)
*You get ALL of this for just $88
(originally priced @ $248).
Hear What Our Patients Say
My husband has been dealing with lower back pain for years. Did some research online and made an appointment with Elite. This was about 3 years ago, and my husband is still with Dr Michael. 🙂
I found out about Elite Spine Centres after struggling with neck and shoulder pain and migraines. I have never tried chiropractic before. I had my own doubts and concerns. But decided to give it a try anyway based on the good review from Google. From the first moment I reached out, the team has always been very helpful and friendly. I came with lots of questions about my condition as well as the chiropractic itself. Dr. Mike understood my concern. He patiently explained every time I have questions, about my progress and also any other symptoms/sensation that I noticed after starting treatment. At the initial process, he gave a gentler adjustment, until I was more accustomed to the experience. He even went the extra mile to provide me with resources to help me exercise/train my shoulder. The comprehensive treatment, stretches and exercises given to me helped my symptoms a lot. They haven't completely gone away as this is a long process. But I haven't taken any painkiller again since then. Overall, great experience. I've even recommended this place to friends are experiencing similar issues. Thank you Dr. Mike and team 🙂
Very professional and caring team. Mum's spinal issue improved after trying all sorts of therapy elsewhere. Knee problem has always been an issue too and i have seen great improvement.
Since am working in healthcare industry for 30+ years, rarely I will comment on medical treatments & Outcomes due to lot of unknown factors. However, this time I felt compelled to write this review for sharing my personal experiences with Dr Mike and his professionally trained team from Elite Spine Care centre. First, up all I have had a pleasant treatment and impressed with customized therapy and clinical services provided over 16 sessions at timely manner. They never acted like they didn't have time for me. I received extensive help at any time from Dr Mike and all clinical and admin staffs, which I really appreciated. Since am in Technology side, my job required extensive work on IT systems, cause of that end of the day I used to have severe pain on my right neck, right shoulder and right leg. I got this pain from late 2015 when I attempted to lift a heavy object Since then I had a weaving Scapula on right shoulder & radiating pain on right neck and arm. I had numerous number of consultations with Ortho and spine specialists, MRI and CT studies and Physiotherapy sessions start from 2015. However, pain had increased steeply and even led to muscle loss on my right arm and shoulder joints. I could not bear the pain and decided to search for alternate treatments such as Ayurvedic, Traditional Chinese massage, accupuncture, etc at various places. By God's, grace one of my friend introduced Dr Mike and intially signed up for 16 sessions at discounted and offordable price I would like to say what a positive experience I had with Dr Mike and his team. They explained everything to me and made every visit more comfortable and worry free. After 4 sessions, I have realised the benefits and now I do not have much pain and recovering from muscle loss and scapula weaving. I have planned to extend the treatment for another 1 year for stabilise the condition. Right now am looking forward to have regular session with Dr Mike and his team. Once again my sincere thanks to Dr Mike, his therapists and all Clinical and administrative staffs for the respect and care that you have showed me. You are always very special people in my heart
Dr Mike and the Elite Gang have been amazing hosts in my chiropractic journey. Dr Mike often emphasises that chiropractic isn't a one-day miracle cure. Chiropractic is about the re-introduction of movements in which the body has not utilised and maintaining them. In the beginning, I was looking for a treatment that would help elevate the ache between my shoulder blades from physical activities. Dr Mike provided a fluid program which resulted in an improvement on my shoulder mobility and the ache reduced gradually. Eventually, my aim is to be more aware of my body structure and search for methods to improve muscle recovery after intense physical activities. Armed with skilled hands, new technology and a friendly, caring team, Elite Spine has provided me with an amazing care in my recovery and fine-tuning of my body. Thanks ya'lls!!
I had severe aching from the lower back down to my feet, it was so bad that I absolutely needed a massage almost everyday. Just a few sessions at Elite Spine made a huge difference and I could now walk/ stand for a long time and run abit without experiencing much soreness. Sleep quality also improved. I also like that there were home stretches recommended to improve condition and body posture. Doctors and staff there were very friendly, I could bring my toddler with me when needed. A tremendous improvement in quality of life, thank you!
I am very thankful that my son, Ryan, also client there, recommended me to Elite Spine Centre. I have undergo the treatment for my lumbar stenosis for slightly more than a month & I am able to stand & walk longer with much lesser pain. Dr Mike & Dr Fraser, and the team are very friendly and professional in dealing with the treatment/ providing services. they provide valuable advice and they do NOT do hard selling. The treatment they provided is complete treatment for the whole body spine with different type of treatments that tailor to your issues. Thank you very much.. Henry Loh
I am very thankful that I have came across this Chiropractor Centre that I have undergo the treatment for my stiff neck and shoulder. I been through few chiropractor centres in Singapore and I would said that this centre that you do NOT want to miss. Dr mike and the team is very friendly and professional in dealing with the treatment/ providing services. they provide valuable advice and they do NOT do hard selling. The treatment they provided is complete treatment for the whole body spine with different type of treatments that tailor to your issues..
Elite Spine Centre is one of the best & most well-equipped chiropractic centre located in SG. Dr Mike is extremely professional & well versed in his field. Having a vast knowledge & experience, he is able to diagnose the root of the issue & work up a treatment plan aiming towards having a lasting recovery instead of just simply "cracking" a few bones to treat only the symptoms temporarily. The team of awesome ladies at Elite Spine Centre, ever friendly & approachable, is always there to ensure that the patient's treatment runs smoothly throughout the whole process. Most definitely recommend anyone seeking chiropractic treatment to visit Elite Spine Centre. Thank you Dr Mike & the awesome team of ladies at Elite Spine Centre 🤙🏾
Nastassja Conning
2023-01-04
Dr Mike and his team are just fantastic in every way. I've been to other chiro's in the past and nothing compares to elite spinal centre! Dr Mike genuinely cares about what the issue is, how you're feeling and the best way to get you better. Above this, his team are incredibly kind, caring and just make you feel at ease. Could not recommend them enough.
Learn More About Knee Pain
For our chiropractors to cure your knee pain, you must help us understand.
The more you know, the more you can tell us, and the better we can personalise a treatment strategy to eliminate your neck pain!
What Are the Common Types of Knee Pain?
In these cases, the patients generally have various soft tissue abnormalities, weakened muscles, or even scar tissue build-up.
In addition, various forms of tendinitis and inflammation may also be present, requiring a combined approach of therapeutics and exercises to treat correctly.
People with pain at the back of the knee often have x-rays with normal or close to normal findings, ruling out knee osteoarthritis as the cause.
Thus, a doctor would consider these conditions instead as the root cause of your knee pain:
Patellar tendonitis
ACL (anterior cruciate ligament) tear
Knee bursitis
Baker's cyst
Torn meniscus
Fractures around or of the knee joint itself
 After Exercising or Physical Activity
Sometimes patients will tell us that they experience knee pain after being physically active. The specific location of the pain and the types of activities that aggravate it can help us pinpoint which tissues may be causing the pain.
For example, runners may often experience pain at or around the kneecap. Such high-impact activities may lead to inflamed soft tissues near or on the kneecap, the wear and tear of knee cartilage, or strained tendons.
Knee joint pain when bending or climbing stairs may also signify "runner's knee" or patellofemoral pain syndrome (PFS). This can be aggravated by overuse, misalignment of your kneecap, or muscular weakness/imbalances in the legs.
Here are some common factors which aggravate pain after exercising:
Poor support in the arches of your feet or improper footwear
Chondromalacia patella (damaged cartilage behind the kneecap)
Tendinitis / Tendonosis
Lumbar spine and nerve problems
Pelvic imbalance
As the largest joint in our body, the knee often absorbs the force of many movements. Furthermore, the knee joint is flexible, so one can end up hyperextending or over-rotating it by accident.
Another root cause of knee pain is physical trauma. Knee injuries from falls, sports activities or accidents can cause even more severe knee pain down the road. Other causes may also be degenerative or systemic conditions like osteoarthritis and rheumatoid arthritis.
On the other hand, knee pain may be a secondary symptom to another underlying cause altogether. For example, if you suffer from a lumbar spine injury, it may cause nerve irritation leading to the knee area. In this case, the source needs to be resolved as merely pain relief is not enough. The knee pain may return without proper treatment, while the undealt source might lead to future injuries.
Some examples of mechanical problems that can cause knee pain include:
Poor foot or ankle mechanics (such as over-pronation or 'flat feet')
Possible instability due to a history of ankle sprains
Hypertonic (tight) muscles or scar tissue development in tissues attached near the knee (such as muscles of the thigh or lower leg)
Pelvic rotation or misalignment
What Are the Symptoms of Knee Pain?
If you notice the following symptoms in your knee or knees, consider it best to seek treatment from our expert chiropractors as quickly as possible:
Pain or soreness in and around the knee joint
Stiffness and swelling
Instability and weakness
Inability to straighten your knee fully
Limping or uneven gait when walking
Popping noises during knee movement
However, if you experience these symptoms instead, seek medical advice immediately:
You can't put any weight on your knee, and it feels unstable (gives out)
An obvious deformity in your leg or knee
You are experiencing a fever alongside redness, soreness, and swelling in your knee.
Severe knee pain as a result of a sudden injury
Experience Elite Spine Centres' Healing Hands for Yourself When You Book an Appointment With Us!
No matter the type and cause of your knee pain, rest assured that we will be able to help accurately assess, diagnose, and treat the root causes of their issues.
Our professionals will find a treatment plan that achieves your health goals.
Before you know it, you can get moving and feeling like your old self again!